Hunt
Photo © Jim Thompson Jr
Lower Oahe Waterfowl Access Program
Please call 605-264-5380 for the most recent information on the Lower Oahe Waterfowl Access Area.
For information on the Lower Oahe hunting access areas, please refer to the South Dakota Hunting Atlas which contains maps and information on South Dakota's Walk-In Areas, Game Production Areas (GPAs), Waterfowl Production Areas (WPAs), some School Lands, and some BLM Lands.
2018 Lower Oahe Waterfowl Access Reports
More information on these reports can be found under Waterfowl Counts.
Free Decoy Loaner Trailer
In a continued effort to recruit and retain waterfowl hunters, the South Dakota Game, Fish and Parks, along with the below sponsors, has equipped three enclosed trailers with decoys, blinds, canada goose flags and ear and eye protection.
These trailers contain everything needed to be successful hunting waterfowl on the Lower Oahe Waterfowl Access Area. Trailer and equipment are free to use.
Trailer sponsors include: South Dakota Game, Fish and Parks; Banded Waterfowl Co.; Big Foot Decoy Co.; Cabela's; Delta Waterfowl-Pierre Chapter; DOA Decoy Co.; HuntSAFE Program; M&R Signs; Pheasants Forever; Runnings; Wildlife Protection, Inc., Scheels, Dakota Decoy and High Plains Wildlife.
Reserve the below trailers following their link and then entering your name, phone number and select the date you wish to reserve the trailer. They are available for use every day from November 3 - February 15, with the exception of Christmas Day.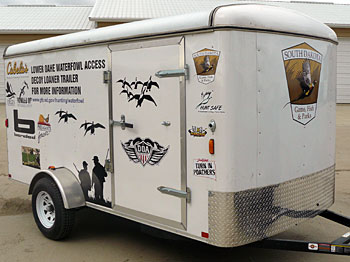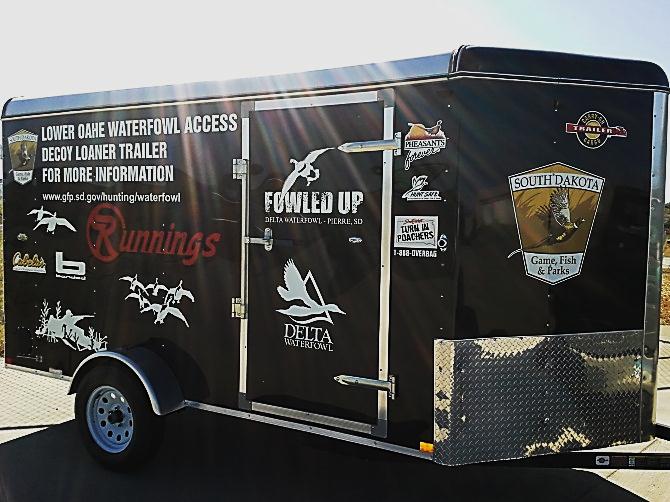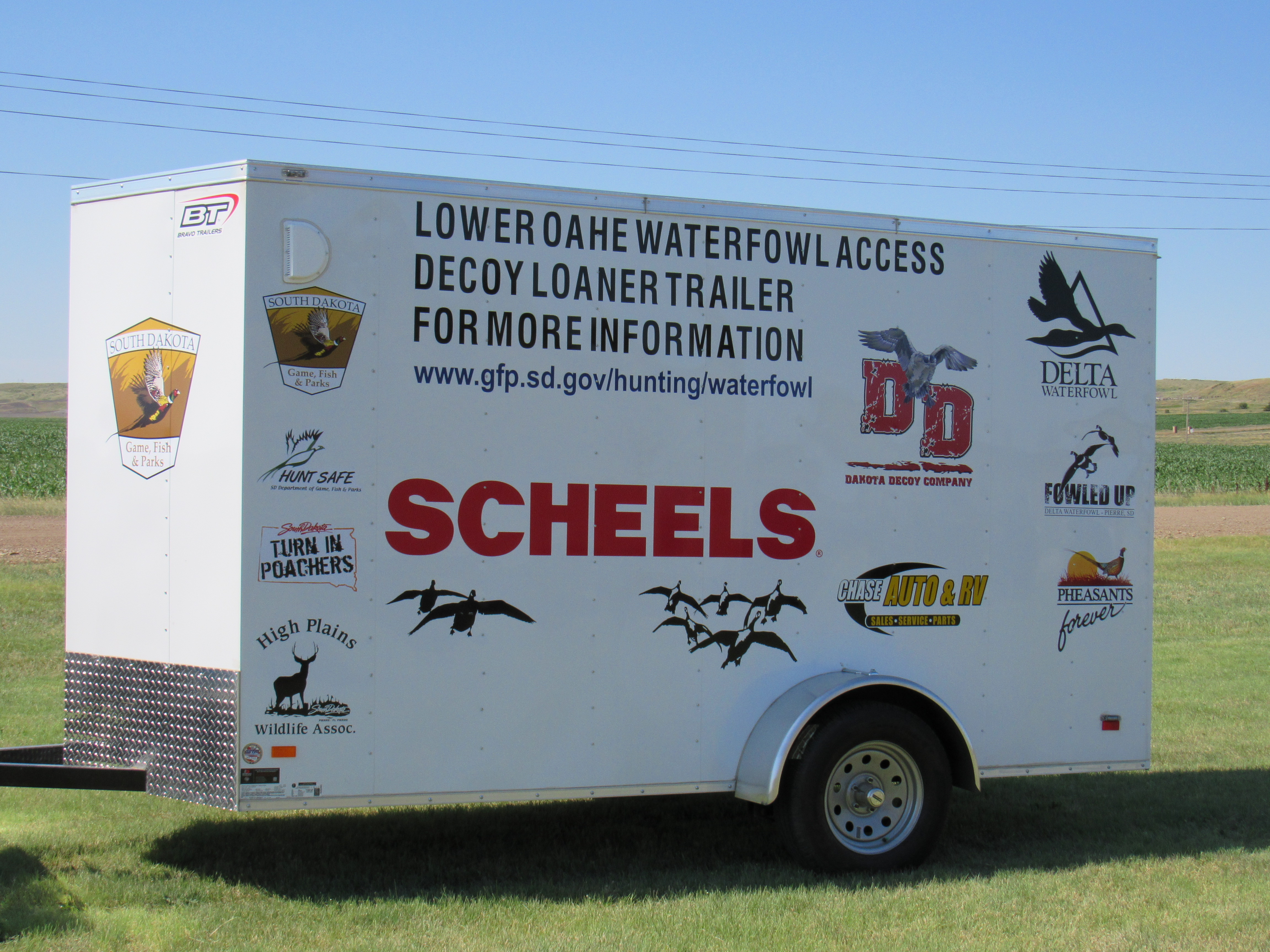 If you have reserved any of these trailers, please complete the South Dakota Lower Oahe Waterfowl Access Area Waterfowl Hunt Trailer Loan/Waiver of Liability Agreement and bring this form to the registration site on the day you have reserved a trailer.
In addition to the decoy loaner trailers, shell decoys are also available at the Lower Oahe Waterfowl Access Area registration site. These decoys are available each morning on a first-come, first-served basis. No prior registration is necessary.
Stay up to date on everything going on by "Liking" Lower Oahe Waterfowl Access Area on Facebook!