Hunt for Habitat
The highest demand licenses in South Dakota are those for bighorn sheep, mountain goat and elk. Certain deer and antelope licenses are also highly coveted. Currently, GFP collaborates with private non-profit organizations to offer an elk license raffle and a bighorn sheep license auction.
Hunt for Habitat will include both an auction tag as well as raffle licenses.
The raffle licenses will allow residents and nonresidents the opportunity to purchase raffle chances online without restriction on the number that can be purchased.
Tickets are $10 for residents and $20 for nonresidents.
Tickets must be purchased online by July 11. Winners will be notified in the days following the close of the raffle.
New for 2022, Hunt for Habitat tickets will be available for sale in the Go Outdoors South Dakota system. We've put together a tutorial video to guide you through the new process.
Raffle
There will be two options for 2022 with four total packages available.
Option One:
One any elk tag
One any deer tag
One any antelope tag
Winners of the package will be eligible to select between two years for when they wish the tag to be valid and may hunt any open season and location for when the license is valid.
Example: A 2022 winner may select to hunt antelope in 2022 and deer and elk in 2023. The winner could hunt with any weapon that is legal and valid for the time period and location.
There will be three packages raffled off. No more than one set of Option One licenses can be issued to a nonresident in a year.
Option Two:
One Custer State Park Trophy Buffalo tag
Winners of the package will be eligible to select between two years for when they wish the tag to be valid.
The Option Two package could be won by either a resident or nonresident and is not dependent on whether a nonresident wins one of the Option One packages.
Where the Money Goes
The Hunt for Habitat improved habitat in 18 counties on 27 GPAs and a total of 6,550 acres in 2020.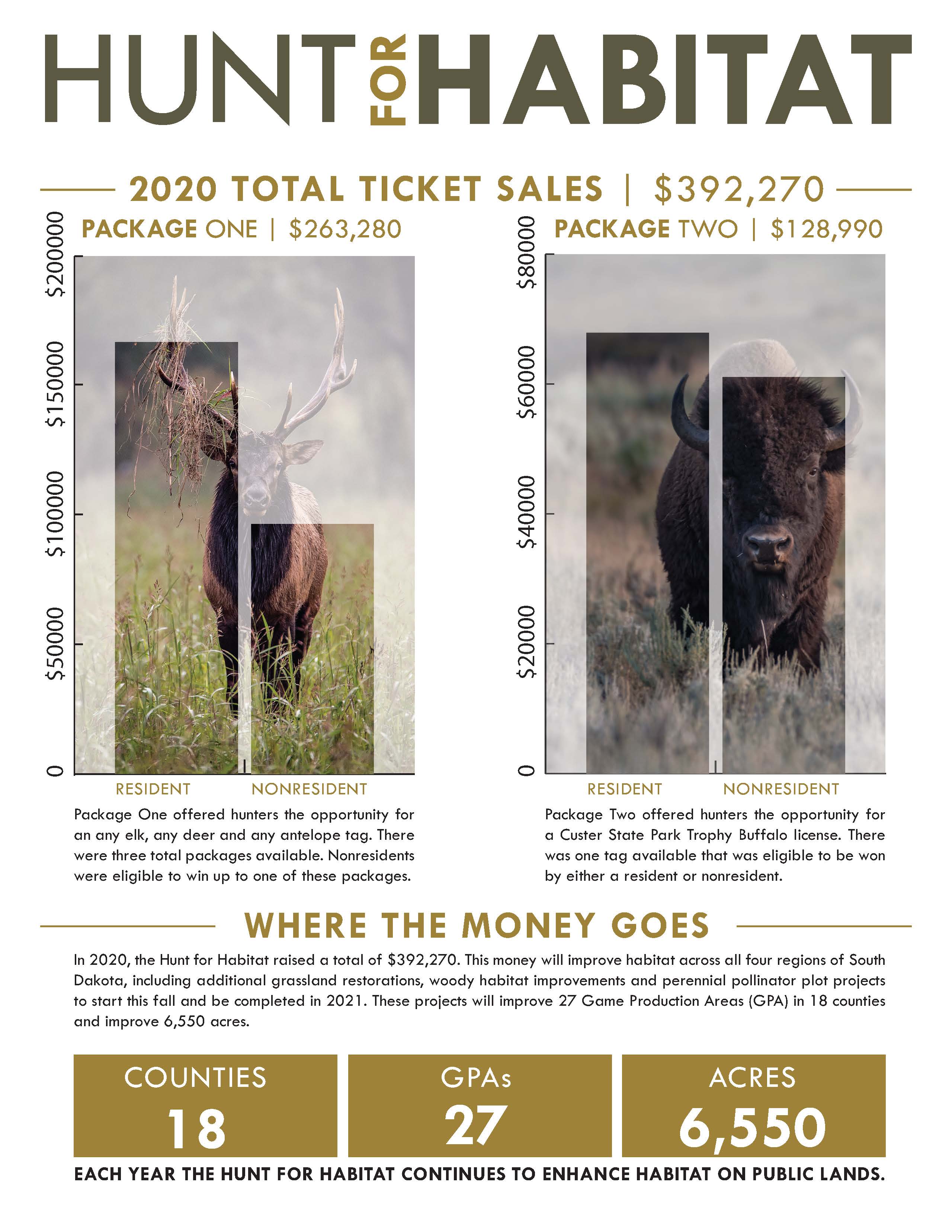 Frequently Asked Questions
A full Frequently Asked Questions document regarding the Hunt for Habitat raffle can be found here.
Through, SB 153, the Legislature and the Governor approved to authorize the Game, Fish and Parks Commission the ability to provide up to ten big game licenses through a raffle draw system with all proceeds going towards habitat.