Volunteering at the Outdoor Campus
---
The Outdoor Campus-Sioux Falls is not currently reviewing volunteer applications. Volunteer applications are still welcome to be submitted. However, please note that they will not be reviewed until mid-January 2024 to mid-February 2024. We apologize for any inconvenience!
---
Become an Outdoor Campus - Sioux Falls Volunteer: Apply Now
The mission of volunteers at the Outdoor Campus is to cultivate stewardship and safely connect people with the outdoors by supporting and leading educational opportunities for the Outdoor Campus.
Why Volunteer Here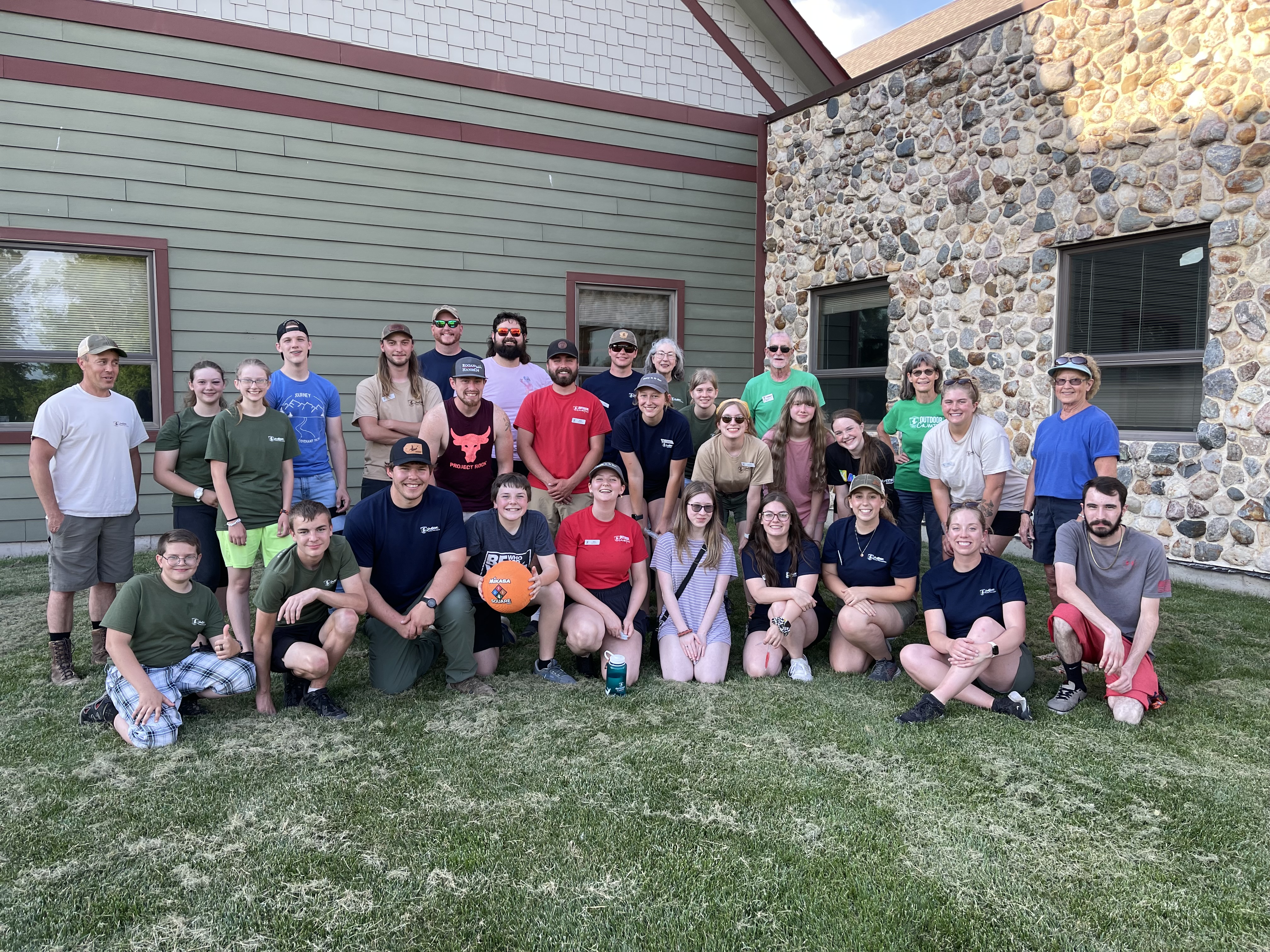 The Outdoor Campus-Sioux Falls has been serving the Sioux Falls community for over 25 years. Throughout the years, we have been lucky enough to have over 1,200 volunteers who have donated over 125,000 hours of their time to our organization. Our volunteers play critical roles at the Outdoor Campus-Sioux Falls—educating and introducing the public to outdoor skills, hunting, fishing, and more. Our team of naturalists and interns would not be able to serve the vast number of participants that we do without the assistance of our amazing volunteers. The Outdoor Campus volunteers are essential to the success of our organization, and we are grateful for each volunteer.
Benefits of volunteering with us:
Opportunities to meet new people with similar interests.
Develop new skills through hands-on experiences.
Ability to participate in diverse and valuable experiences.
Opportunities to attend additional educational trainings.
Share your love for the outdoors with others.
Receive a uniform shirt and name tag.
Volunteer award program based on hours donated.
Qualifications
Must be 12 years of age or older.
Submit an online application to the volunteer coordinator.
Complete a volunteer interview and orientation.
If 18 years or older, agree to a pass a criminal background check.
Youth volunteers must be able to commit to a minimum of 25 hours of service in a year.
Adult volunteer must be able to commit to a minimum of 50 hours of service in a year.

Volunteer Positions
Education Assistant: The Outdoor Campus leads hundreds of free outdoor education programs for the people of the Sioux Falls area each year. These classes would not be possible without the assistance of our wonderful volunteers. Education assistant volunteers act as support during classes by performing tasks like classroom management support, archery/BB gun range commands, baiting fishing hooks, ensuring safety during programming, and more.
Front Desk: Front desk volunteers are responsible for greeting guests, answering questions, checking participants in for classes, and directing visitors to various areas and people in the building.
Animal Care: Animal care volunteers care for the educational animals that call the Outdoor Campus home. Tasks include feeding and watering the animals, keeping their terrariums clean, and keeping the education animal area clean and presentable for the public. Must commit to a weekly volunteer assignment (ex. every Monday).
Hunting Mentor: Volunteer hunting mentors are an instrumental part of our Hunting 101 program. Hunting 101 is taught by staff over the course of several weeks to adequately prepare and provide the mentee with all the necessary skills possible. During this time, mentees are paired with a Volunteer Mentor to accompany them while learning and guide them through the process. This will likely include attending and assisting with range shooting days, learning the ins and outs of purchasing a tag and license, scouting for game, taking the mentee on their first hunt, processing and preparing their harvest, and many more possible subjects for the mentee to feel confident enough to continue without support.
Court-Appointed Community Service
The Outdoor Campus-Sioux Falls is unable to provide volunteering tasks to help individuals fulfill court-appointed volunteer hours.
Group Volunteer Opportunities
During the spring and summer, we have various outdoor projects to offer group looking to volunteer with us. Activities may include weeding, trash pick-up, tree trimming, etc. We ask that groups have a minimum of five people. Groups with volunteers under 18 are expected to have adult supervision. Please email the volunteer coordinator at paige.o'farrell@state.sd.us to request a group volunteer activity. Group volunteer projects must be scheduled with the volunteer coordinator at least three weeks in advance to ensure availability of staff and equipment.
Application Process
Step 1: Complete and submit an online application here.
Step 2: Once the volunteer coordinator receives your application, you'll be contacted and asked to complete a quick in-person interview. These typically take around 20 minutes or so.
Step 3: If the potential volunteer and volunteer coordinator think it's a good fit working together, we'll have you fill out our liability waiver, volunteer service agreement, and if 18 or older, pass a criminal background check.
Step 4: The volunteer coordinator will contact you to step up a volunteer orientation. The orientation typically takes around 45 minutes to 1 hour. We will go over our policies and procedures, tour the facility, and teach you how to sign up to help!
What Volunteers are Saying
"It is a great way to share my love for the outdoors with others." -Tate
"I like to teach people new skills, and it has been a help with meeting new friends." -Bobby
"I enjoy being of service to our guests and students, providing information about our programs and campus. The staff at TOC are the best. I have learned so much about our environment from them. I always feel like I belong!" -Dave
Contact Information
Looking for more information about volunteering at the Outdoor Campus - Sioux Falls? Contact our volunteer coordinator at paige.o'farrell@state.sd.us or call 605.362.2728.