State Parks
Photo © Chad Coppess
Palisades State Park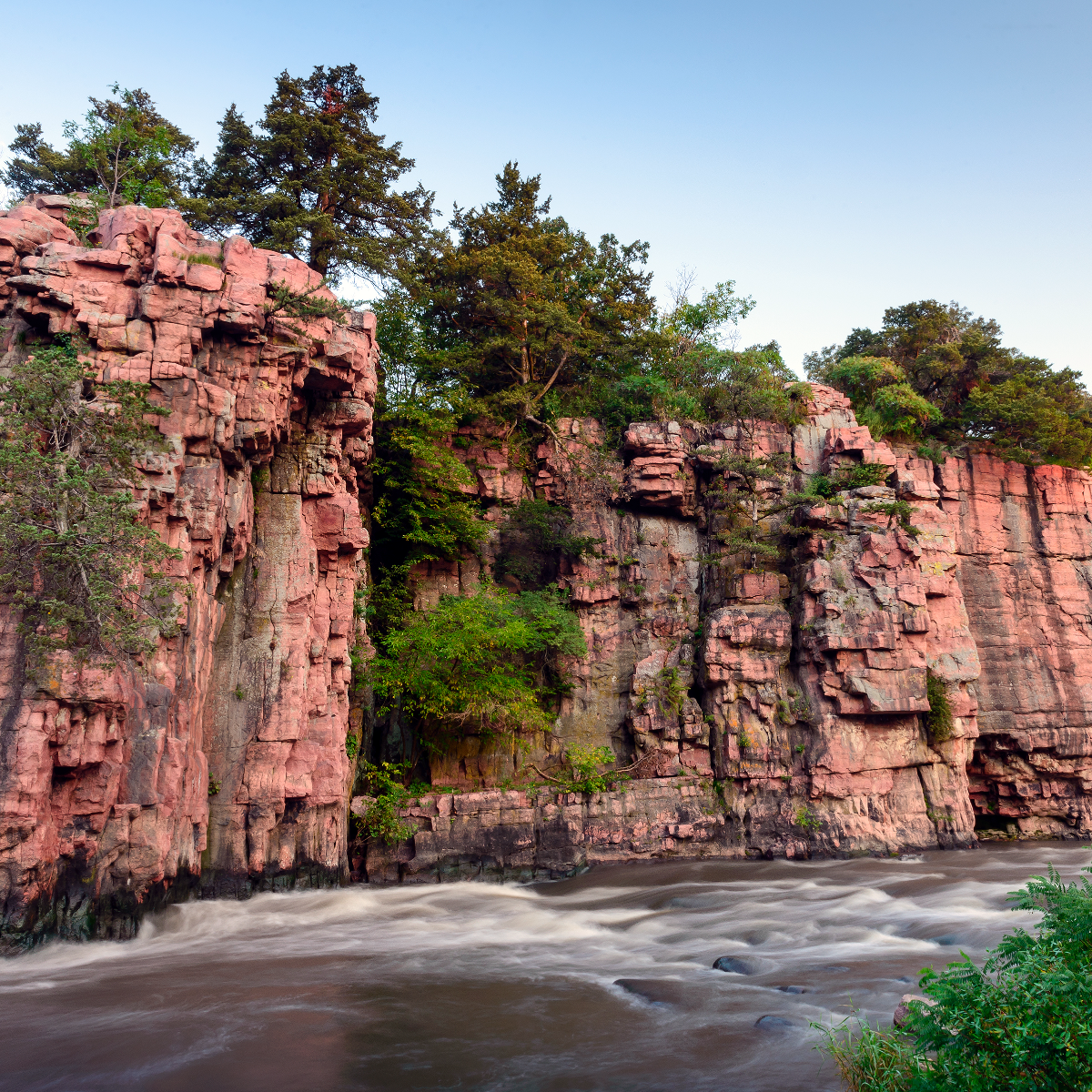 Palisades State Park is one of the most unique areas in South Dakota. Split Rock Creek, which flows through the park, is lined with Sioux quartzite formations varying from shelves several feet above the water to 50-foot vertical cliffs. Scenic overlooks and rushing water make Palisades a popular getaway. The park is popular among campers, photographers, sightseers, picnickers, rock climbers and hikers.
A huge flour mill was once located on the bluff overlooking the park. The mill was powered by a large water-wheel installed along the rushing Split Rock Creek. The once-bustling town of Palisades grew up around the success of the mill. In 1886, silver was discovered downstream. The silver ore proved to be low in quality, however, and the nearly 300 claims were quickly dropped.
For millions of years, Split Rock Creek cut deep gorges through Palisades State Park. Geologists estimate the Sioux quartzite spires are 1.2 billion years old. Four hiking trails twist and turn through these beautiful Sioux quartzite formations. The cliffs and formations at Palisades are used by rock climbers to practice their scaling and rappelling techniques. Bolting is not allowed on the quartzite formations. Please contact the park before you head out for other climbing regulations.
2019 Development
Natural Resource Priority
Governor Noem and GFP have made expansion and selected development of Palisades State Park a top priority for 2019. In a joint private-public partnership, GFP along with South Dakota Parks and Wildlife Foundation (SDPWF) have secured land purchase agreements that will provide for park expansion and additional recreational opportunities.
In Governor Noem's 2019 legislative budget request, $500,000 was requested for additional park land development. The SDPWF has agreed to raise $1,600,000 to match this and GFP's park expansion commitments.
Development Possibilitities
Approximately 70 new campsites
4 miles of new hiking and biking trail
Picnic and day use areas
Additional Access along Split Rock Creek
Water trail features like canoe/kayak launches
Archery trail
Dog training area for exercising pets off-leash
Improved habitat and wildlife viewing opportunities
Educational and interpretive facilities
Getting Started
$500,000 in general funds will serve as a critical challenge grant to generate public/private partnerships and donations to facilitate the development of key infastructure and access to facilities.
Master planning and public input for the property and improvements will take place in 2019.
The first stage of development will include a new entrance road that wil serve as the main access to the park. Landscape and habitat conversions will also take place. Infastructure and utility needs will be implemented. Campground, trail and other amenities will also be priorities.
Public comments regarding these developments can be submitted here.
Read More About This Park
Activities
Birdwatching
Camping
Canoeing/Kayaking
Fishing
Hiking
Historical interest
Rock Climbing
Snowshoeing
Volleyball
Show More
Fees
Daily: $6 per vehicle
Annual: $30 first vehicle | $15 for second vehicle | $65 transferable license
Campsites - electrical: $21 per night
Campsites - non-electrical: $17 per night
Cabins: $45 per night
Show More
Park Specs
Open: Year-round. Between Oct. 1 and April 30, showers, flush toilets and other water systems may be closed. Please contact the park directly for current status. Vault toilets usually remain open.
Park Size: 34 campsites, 6 cabins (each sleeps 4 people) and a group lodge
Directions:
10 miles north of I-90, Brandon Exit 406
Nearest Town: Garretson
Show More
Amenities
Campground
Camping cabins
Drinking water
Electric campsites
Flush toilets/showers
Game checkout
Lodge
Picnic Shelter
Playground
Vault toilets
Show More
ADA / Accessible
Camping Cabins
Camping Site
Lodge
Picnic Shelter
Showers
Show More
GPS Coordinates
Latitude: 43.68764
Longitude: -96.51717

Show More
Additional Info
Show More