State Parks
Photo © SD Tourism
Oahe Downstream Recreation Area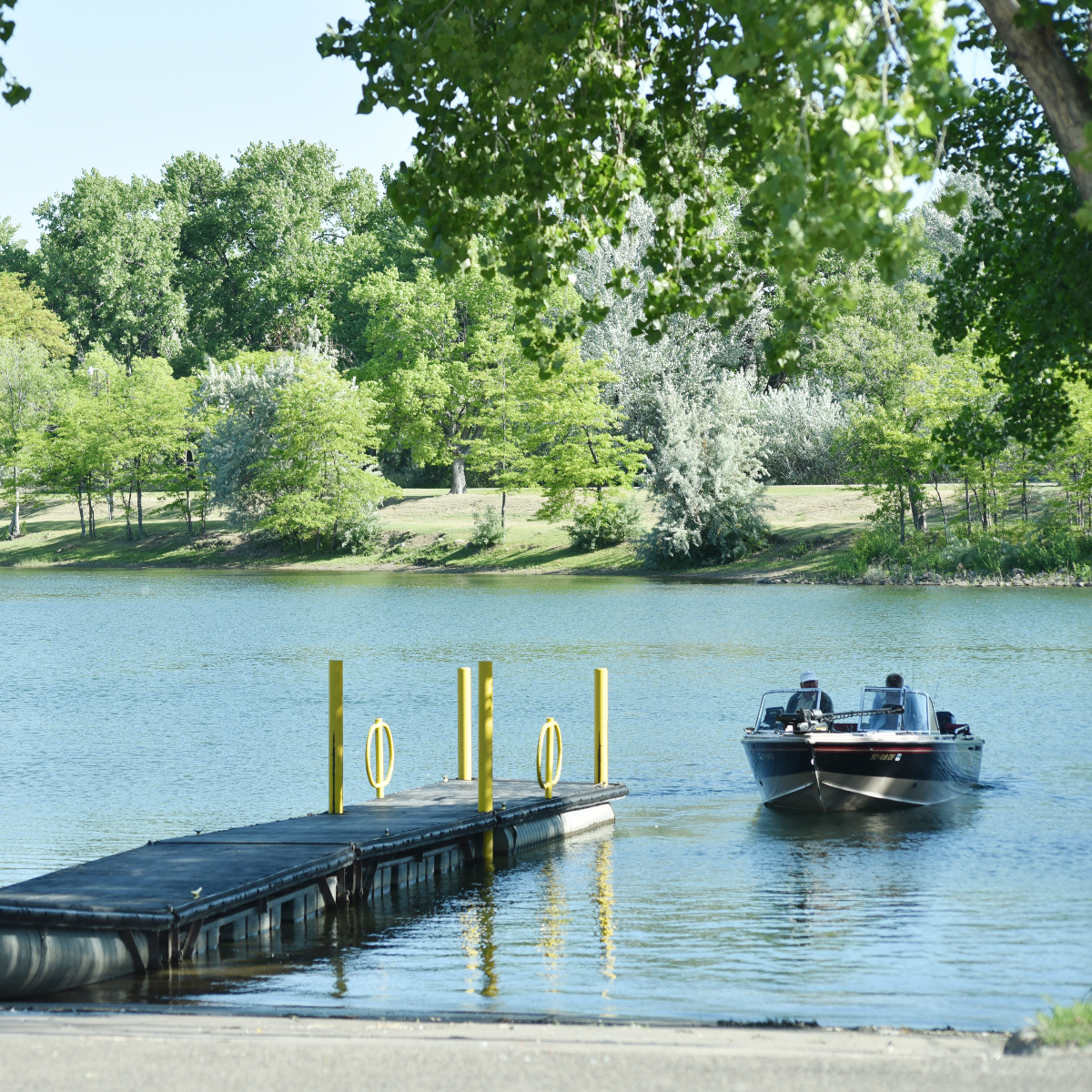 The park's three campgrounds give visitors a variety of recreational opportunities, from boating to hiking to disc golf. The Corps of Engineers began building the Oahe Dam in 1948 and in 1962 started generating electricity. It's one of the largest constructed reservoirs in the United States, measuring 231 miles connecting the capital cities of South Dakota and North Dakota.
Oahe Downstream is one of the South Dakota state parks that offers the opportunity for visitors to see the majestic bald eagle. During winter, bird watchers can view eagles that roost in the treetops below the dam. They typically can be viewed perching within 50 feet of the riverbank in tall cottonwood trees.
Everyone is encouraged to visit the interactive South Dakota prairie butterfly garden located near the main entrance at Oahe Downstream. Find 17 species of native prairie plants, identify some of common butterflies, and learn something new about butterflies of South Dakota. Learn more.
Oahe Marina & Resort is privately operated under agreement with the Division of Parks and Recreation. Contact by phone: 605.223.2627
Oahe Downstream Lodge
The Oahe Downstream group lodge was constructed within the recreation area in 2006. With shoreline access, guests are now treated to a beautiful view and private shoreline for swimming, canoeing, or other types of water recreation.
The lodge is equipped with a full kitchen with cookware, serving utensils, and appliances and is separated from the "great" room" by a 16 foot serving bar. The 25 x 30 foot "Great" room provides comfortable seating for up to 65 guests. Tables and folding chairs are available on-site
Large grassy areas are also maintained around the lodge and provide ample room for those wishing to tent. A large campfire ring is situated near the river for evening cooking or socializing.

Reservations
Lodge is reservable one year in advance.
Fees
$125 per night
$40 per night

SD resident, non-profit youth groups contact the park directly, year-around at 605.223.7722
Non-profit groups and SD state government agencies contact the park directly at 605.223.7722 from Nov. 1 through Mar. 31.

$19 per night per RV unit associated with lodge rental and utilizing facility

About the Lodge
No sleeping quarters
Does not include beds, television or fireplace
Table service for 65 people
Tables and folding chairs available on site for no additional cost
Wheelchair accessible
Two full bathrooms with showers
Air conditioned and heated
Furnished kitchen with cookware, utensils, appliances and large serving bar. No outside grill provided
Shoreline access with beach
2 RV electrical pedestals with 50, 30, and 20 amp electrical service available for additional charge.
Tenting permitted in adjacent grass areas
Restrictions
Check-in: 4 p.m.
Check-out: 11 a.m.
No pets allowed inside
No smoking
Park curfew/quiet hours are 11 p.m. to 6 a.m.
A Special Event Application is required for events involving 50 or more people
See More
Read More About This Park
Activities
Archery range
ATV & Off-Highway Vehicles
Biking
Birdwatching
Boating
Camping
Canoeing/Kayaking
Disc Golf
Fishing
Hiking
Historical interest
Horseshoes
Swimming
Volleyball
Show More
Fees
Daily: $6 per vehicle
Annual: $30 first vehicle | $15 for second vehicle | $65 transferable license
Campsites - electrical: $19 per night
Campsites - non-electrical: $15 per night
Cabins: $45 per night
Lodge: $125 per night
Show More
Park Specs
Open: Year-round. Campgrounds closed to camping November 15 through the last Friday of March for bald eagle winter roosting. Day-use area remains open year-round.
Park Size: 3 campgrounds with 205 campsites and 8 cabins (each sleeps 4 people)
Directions:
5 miles north of Fort Pierre on Highway 1806, on the south side of Oahe Dam.
Nearest Town: Pierre
Show More
Contact Info
Oahe Downstream Recreation Area
20439 Marina Loop Road
Fort Pierre, SD 57532
605.223.7722
Email:
Oahe@state.sd.us
Show More
Amenities
Beach
Boat Ramp
Campground
Camping cabins
Drinking water
Dump station
Electric campsites
Fish cleaning station
Fishing dock
Fishing pole checkout
Flush toilets/showers
Game checkout
Lodge
Off-highway vehicle area
Picnic Shelter
Playground
Resort
Vault toilets
Visitor Center
Show More
ADA / Accessible
Camping Cabins
Camping Site
Fishing Dock
Hiking Trails
Lodge
Picnic Shelter
Showers
Show More
GPS Coordinates
Latitude: 44.43694
Longitude: -100.3998

Show More