GFP Celebrates the New Year with First Day Hikes Across the State
December 20, 2017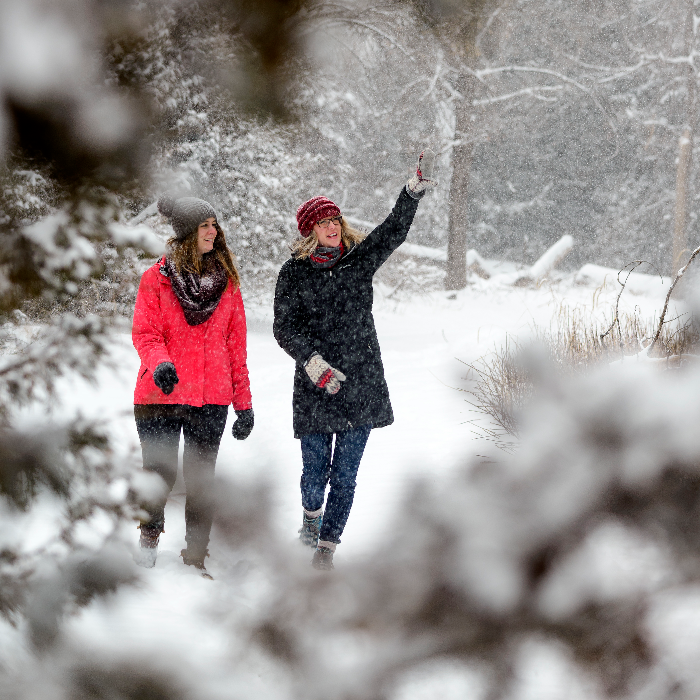 Photo by SD Tourism
Pierre, S.D. - South Dakota Game, Fish and Parks (GFP) encourages those with New Year's resolutions on health and happiness to kick off 2018 with a First Day Hike at a state park. On January 1, all 50 states will be participating in the seventh annual national event that encourages everyone to celebrate the New Year with a guided outdoor exploration.

"We are excited to host First Day Hikes as part of this national effort to get people outdoors and into our parks," said South Dakota state park director Katie Ceroll. "First Day Hikes are a great way to cure cabin fever and burn off those extra holiday calories by starting off the New Year with a walk or hike in one of our beautiful state parks."

The sponsored hikes range from less than one mile journeys to longer, more intense workouts, depending on the state and terrain. South Dakota is offering nine hikes across the state. Several will offer participants snowshoes as conditions and supplies allow.

First Day Hike, Custer State Park near Custer, 10 a.m. MT
First Day Hike, Oakwood Lakes State Park near Brookings, 1 p.m. CT
First Day Snowshoe Hike, Lewis and Clark Recreation Area near Yankton, 1 p.m. CT
Winter Wonderland Nature Hike, Big Sioux Recreation Area near Brandon, 2 p.m. CT
Winter Nature Hike, Good Earth State Park near Sioux Falls, 2 p.m. CT
Walk Through the Winter Woods, Newton Hills State Park near Canton, 2 p.m. CT
First Day Snowshoe Hike, George S. Mickelson Trail, 1 p.m. MT. Pre-registration required: 605.384.3896
Bird Watcher's Hike, Angostura Recreation Area near Hot Springs, 1 p.m. MT
First Day Snowshoe Hike, Fort Sisseton Historic State Park near Lake City, 3 p.m. CT
First Day Hikes originated more than 25 years ago at the Blue Hills Reservation – a state park in Milton, Massachusetts. Last year, more than 62,000 people covered over 114,000 miles on 1,300 hikes across the country.
All participants are encouraged to log their adventures on social media with #FirstDayHikes.
-GFP-
GFP Mission: The South Dakota Game, Fish and Parks provides sustainable outdoor recreational opportunities through responsible management of our state's parks, fisheries and wildlife by fostering partnerships, cultivating stewardship and safely connecting people with the outdoors.
View All News