New GFP Outdoors Mobile App Available
February 15, 2018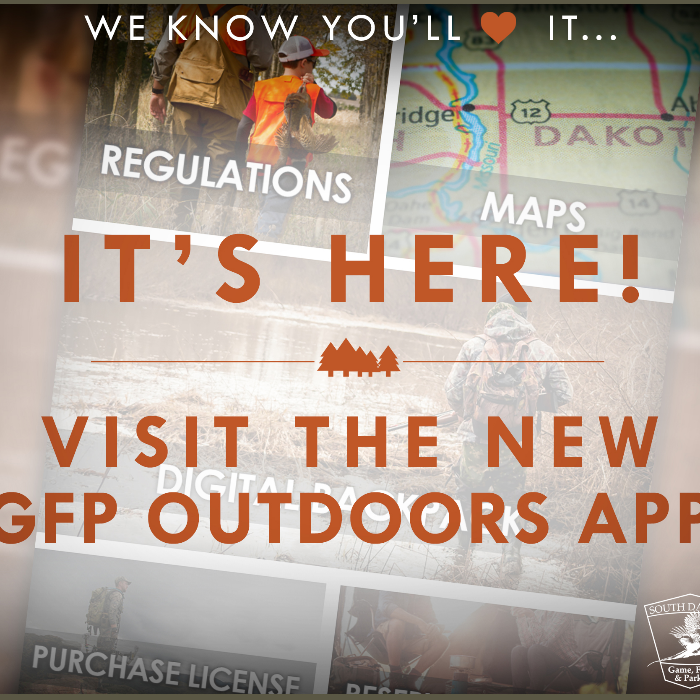 The South Dakota Game, Fish and Parks (GFP) is inviting hunters, anglers, campers and all other outdoor enthusiasts to update, download and explore its new mobile app.
"The new mobile app features a digital backpack so users can customize it with favorite maps, licenses, handbooks and key dates," stated Calley Worth, GFP digital content strategist. "The app provides the ability to view maps offline if the user is in an area with little to no cell phone service. This is one of the main features users asked for prior to developing the app. Users must download or sign into their account before heading out to the field to receive the most up-to-date information from these features. We also want residents and nonresidents to know that they can sign up for notifications regarding hunting season start and end dates and application opening and closing dates."
Reminders to App Users:
Allow the app to send or push notifications and also opt into allowing location access. These will be prompted upon opening the app. Accepting this feature will allow users the ability to use the GPS and key dates feature.

If users had the old version of the GFP Outdoors app on their phone, the new version will be available as an update in the App or Google Play Stores.

If users did not previously have the app, it is available by searching 'GFP Outdoors' in the App or Google Play Stores.
"The mobile app is designed for Android systems 6 and up and iOS systems 10 and up.Users may need to update their software if they cannot download the app or if the app will not update to the newest version," concluded Worth.
-GFP-
View All News