South Dakota State Parks Remain Popular Getaways
February 5, 2018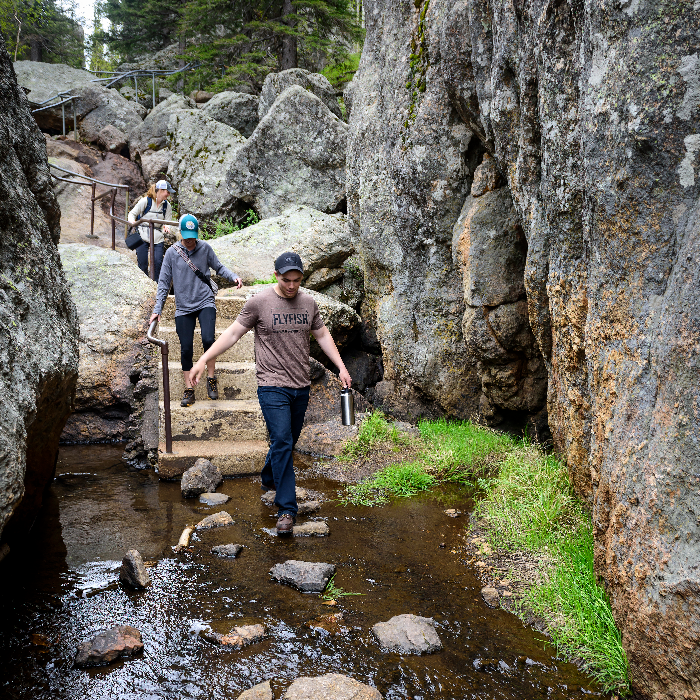 Photo by Chad Coppess
PIERRE, S.D. – South Dakota Game, Fish and Parks (GFP) officials say state parks saw high numbers of visitors in 2017. The state park campgrounds hosted more than 342,000 nights of camping last year, up 3.8 percent and continuing an upward trend that has been steadily growing for over a decade.
But the real highlight of 2017 according to Katie Ceroll, South Dakota State Parks director, is the opportunities created by several new and expanded services in the parks.
"Camping is widely popular in the state parks," she said. "But we offer so much more. Whether you're staying overnight or stopping in for the day, parks feature visitor centers, special events and other recreational opportunities to enhance your visit."
Ceroll noted several accomplishments in 2017 that drew people to the parks.
In May, Good Earth State Park near Sioux Falls opened its visitor center and has already surpassed 80,000 guests. In addition, the park offered over 180 programs on topics from cultural history to snowshoeing. Good Earth is also a popular gathering place for group activities.
"The visitor center meeting rooms and patio are becoming popular venues for meetings and special events," said Ceroll. "An outdoor amphitheater will be constructed this spring, which will be used for school groups, programming and group rentals."
In June, over 11,600 visitors attended the 40th Annual Fort Sisseton Historical Festival. The three-day event included a military encampment, pie-baking contest, musical performances and shooting competitions.
Water recreation was boosted in June with the dedication of the Jay Heath Canoe and Kayak Trail along the Big Sioux River. The water trail features new canoe/kayak campsites at three state parks, as well as several city and county parks. A GPS-based website provides details on public access points along the river from Sioux Falls to Sioux City, Iowa.
In September, Custer State Park opened the rejuvenated Peter Norbeck Outdoor Education Center. The interactive center is designed to introduce, educate and encourage families to explore the natural world on their own.
"These and other new features are great ways to enhance your experience in the parks," said Ceroll. "I encourage folks to get out in 2018 and discover all your parks have to offer."
For more information on South Dakota State Parks, visit gfp.sd.gov.
-GFP-
View All News