Poker Run
Photo © SD Tourism
State Parks Poker Run
April 15-Oct. 31, 2021
Round up your gang and head out for a state park adventure! Hike or bike the trails at participating locations to collect your poker hand. Email us a selfie with each of the five cards at that location to enter the prize drawing. Visit at least three parks to put together your best hand and enter again for your chance at the grand prize!
Five selfies with the cards from one park.
Five selfies with cards from at least three parks.
How to Participate
Bike or hike the designated trail or indicated route at participating locations.
Snap a selfie with each of the five playing card signs within that park. Include all members of your group; you get one entry for each person in the photos.
Email all five selfies and your contact information to parkinfo@state.sd.us for a chance to win that location's prize package. You can enter once per person at each location.
Enter again with your best poker hand using cards from at least three parks for your chance at the grand prize! You can only enter once per person, so make sure you have your best hand before submitting.
The contest runs April 15-Oct. 31, 2021. Entries must be submitted on or before Nov. 1, 2021.
Participating Locations
Each park gets two hole cards and three community cards. Park regions make up a table, so the flop, turn and river cards will be the same for all locations within that region. Visit at least three parks from anywhere in the state to come up with your best hand to enter for the grand prize.
Northeast Region
Northwest Region
Southeast Region
Southwest Region
Prizes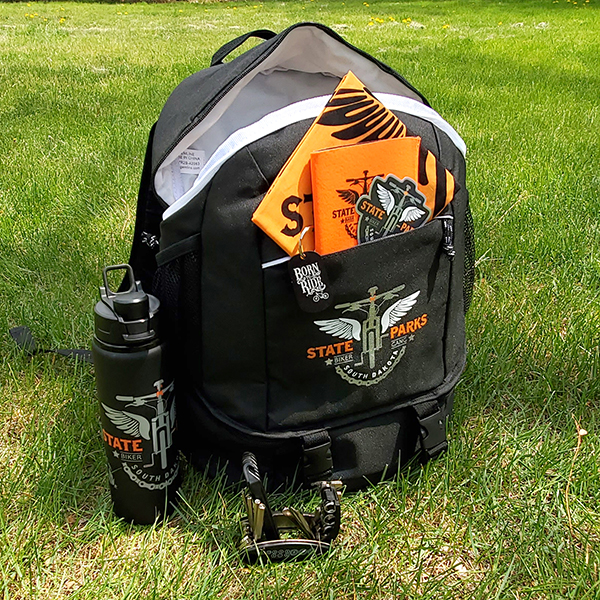 Park Hand Prize
One email will be randomly selected as the winner from all entries at each location. The winner will be mailed a prize pack including a State Parks Biker Gang backpack cooler, aluminum water bottle, bike multi-tool and more.
Best Hand Prize
The entry with the best hand as determined by standard Texas hold 'em poker hand rankings will receive the poker run prize pack and two registrations for the 2022 Summer Trail Trek on the George S. Mickelson Trail in the Black Hills. (Riders must be 14 years or older to participate in the Trek; minors accompanied by an adult). Only valid hands that can be made from a standard 52-card deck are eligible. If multiple entries submit the same best hand, one winner will be randomly selected from all tying entries.
Notification
Winners will be notified via email from parkinfo@state.sd.us by Nov. 15 and their prize mailed to the address provided. If a mailing address cannot be obtained within a week, a new winner will be selected.