Ft. Sisseton Historical Festival
Ft. Sisseton Historical Festival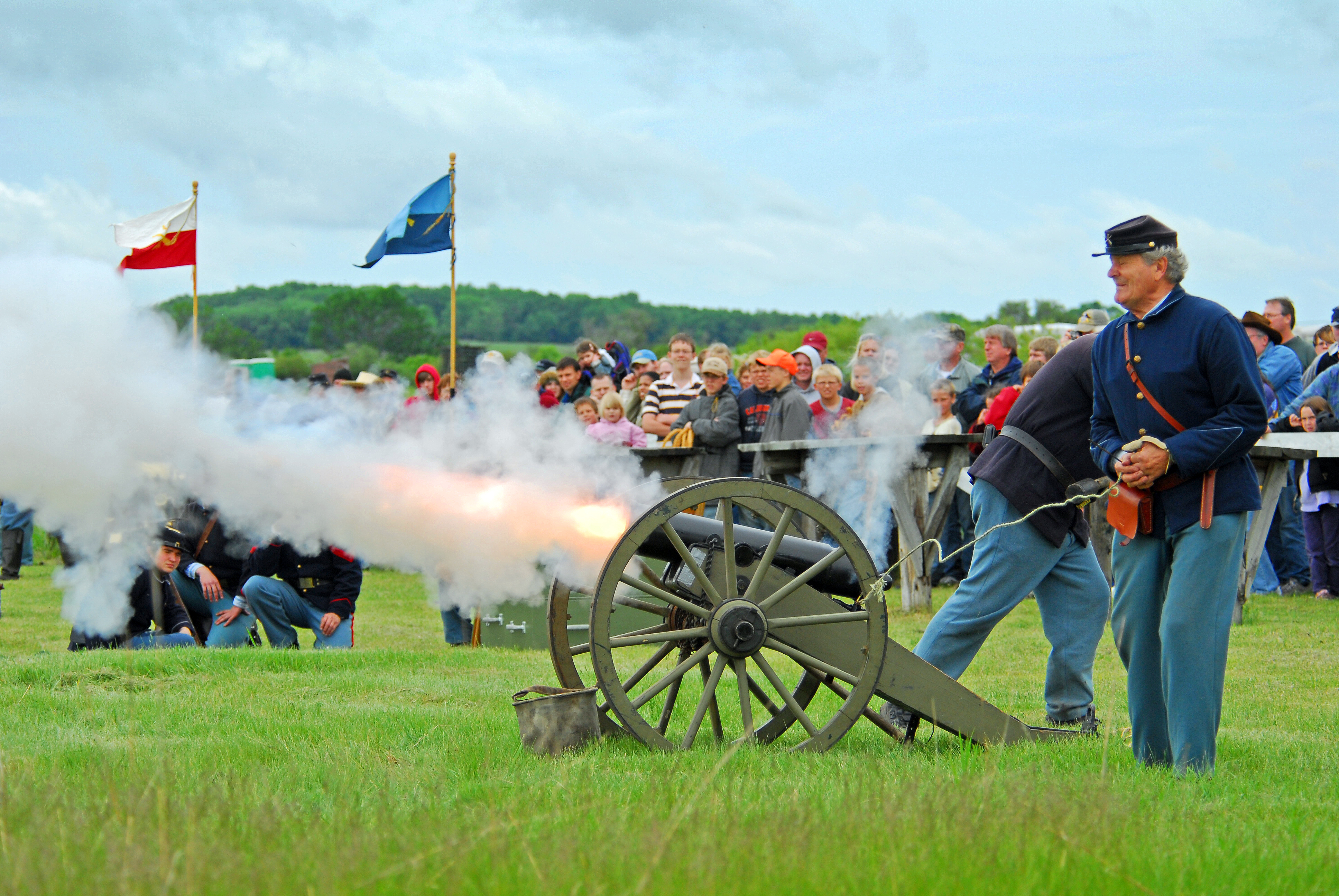 The sound of the fort's cannon resonates as black powder smoke fills the summer air. A cavalry general shouts the command, "CHARGE!" as he leads his army across the open prairie. During the Historical Festival, Fort Sisseton again comes to life.
Fun on the Frontier
During the first full weekend in June, cavalry troops and infantry units converge on the fort's grounds to form a military encampment complete with soldiers, women and children, all the necessary tents, uniforms, horses, and memorabilia. The military is joined by fur traders and other participants of the Rendezvous - muzzleloaders, riflemen, and crack-shots from eight states meet amidst a teepee encampment with dozens of lodges and traders.
The festival covers the whole gamut of frontier life and settlement. It includes fiddle music, historic figures, an arts and crafts show, melodrama stage show, songs and music from the Civil War, period dance instruction classes, and a military costume ball. Colorful costumes, tall tales, and a unique system of bartering will bring history to life.
The annual three-day event draws more than 15,000 visitors and 200 camping units. Our local supporters have "accused" us of doubling the population of rural South Dakota.

Before You Go
Activities run: Friday: 5-9 p.m. | Saturday: 9 a.m.-8:30 p.m. | Sunday: 8 a.m.-4 p.m.
Admission is $5 per person (11 and under free). Use the South entrance.
Wear comfortable shoes, sunscreen, and light layers for weather changes.
Bring a refillable water bottle to stay hydrated.
Bring cash for food, craft, and trinket purchases.
Strollers and wagons are welcome, but they may not be able to enter buildings.
Camping
Stay on the grounds during the festival and experience the night like our forefathers once did. Sleep comfortably under the stars and enjoy the sounds of the great outdoors.
$25 per unit per night (includes daily admission)
Reservations are encouraged and will reduce check-in time.
Reservations open at 7 a.m. 90 days prior to arrival. Visit campsd.com or call 1.800.710.2267.
Dry camping: no electricity, water, or fire grates.
Campsites will be assigned upon arrival.
Use the South entrance. Please remember your confirmation letter.
Vendor Information