100 Years of Outdoor Tradition
Throughout 2018 and 2019, the South Dakota Game, Fish and Parks will be celebrating 100 Years of Outdoor Tradition. In 1918, South Dakota established its' first pheasant hunting season which was held in Spink County in 1919. Also, in 1919, Custer State Park was named the first official state park.
In South Dakota, we know that traditions come in all forms of outdoor recreation. Right now, we are highlighting our hunting, camping and outdoor recreational traditions and plan to focus on where we all want to go in the next 100 years.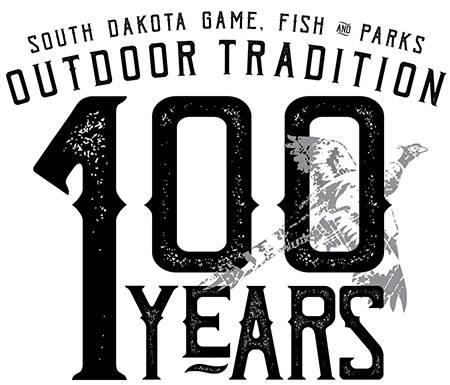 #MySDTradition
As we reach 100 years of pheasant hunting and state parks in South Dakota, we encourage our recreational users, residents and nonresidents, to take us for a trip down memory lane.
Look through the photo books to share memories and traditions on social media using #MySDTradition. As you look forward to the next 100 years of outdoor recreation, what will those new traditions look like? It is never too early to start them - and we want you to take us with you - using #MySDTradition.
Help us tip our blaze orange hats to the past 100 years and start celebrating the next century using #MySDTradition when sharing your experiences through a photo recreation challenge.
New Brew Competition
We looked to our South Dakota breweries to honor the past and celebrate the future with a new brew. We challenged the breweries to develop a brew and tell us a story behind the brew and focus on the close relationship with nature, strong ties to community and how the outdoors play a strong role in our next 100 years and yours.
The voting in now open! Visit gfp-100-years.sd.gov to view the participants, read their 100 Years of Tradition stories and cast your vote!
The winner will be announce at the 2019 Tourism Conference in January.
South Dakota Conservation Digest
The 2018 fall issue of the South Dakota Conservation Digest is here! Inside you can find a wonderful feature on the history of pheasants in South Dakota and a preview of Custer State Park's 100th year! We also reached out to licensing business agents and statewide Chambers/CVBs to help circulate this issue. Over 80 businesses responded and will have the magazine on display this season.
The 2019 Digest Calendar will also feature photos and recreated photos all centered around the marketing efforts.
South Dakota Public Broadcasting
We are working with a producer at South Dakota Public Broadcasting (SDPB) on a TV program about South Dakota state park history. The show would be a part of SDPB's "Images of the Past" series. "A Century of South Dakota State Parks" premieres Thursday, Jan. 3 at 8:30pm CT/7:30 MT on SDPB1.
Pheasants Forever Sponsorship
Working with Pheasants Forever, South Dakota will be a major feature and destination as they look at promoting the 100th pheasant hunting season as well. GFP will be featured in their Upland Super Issue out this fall.
Our friends at Pheasants Forever will also play a key role in the cross-promotion of our #MySDTradition social media efforts. And they are sending a crew to South Dakota on opening weekend to film this year's Rooster Road Trip.
2019 Department of Tourism Sponsorship
GFP is the sponsor of the Wednesday night reception at the 2019 Tourism Conference in January. What does this mean? Brand exposure and recognition to the entire South Dakota tourism industry about what's ahead for our own 2019 peak season marketing efforts as we shift the focus from pheasant hunting to celebrating the 100 years of Custer State Park and the state park system as a whole.
Custer State Parks' Birthday Celebration
On March 1, 2019, join Custer State park for cake and ice cream as they celebrate the day that the park was officially dedicated as a state park back in 1919. There will be cake and ice cream in the Visitor Center for guests along with guided hikes, programming, ice fishing, snow shoeing (if there is snow) and more.
Custer State Park Summer Concert Series
Every weekend in 2019 throughout June, July and August, Custer State Park will put on a free special concert and feature visiting artists and bands from around the region. Guests are welcome to bring their own picnics or refreshments. Times and dates for the series are yet to be determined.
Tatanka Photo Contest
Throughout 2019, Custer State Park and Custer State Park Resorts will challenge visitors to the Tatanka Photo Contest. To be a part of this effort, send in photos of the park! One photo will be chosen to be featured on the cover of the 2020 Tatanka Magazine. Second and third place winners will have their photo featured in the Visitor Center for the summer of 2020.
Photos can be submitted by email to kobee.stalder@state.sd.us or by Facebook message to Custer State Park.
Travel Back in Time and Download the Custer State Park App
The app features four different audio and video tours that allow you to discover how unique the park is at your own pace. Take the "Centennial Journey" and learn about the rich history of Custer State Park that dates back all the way to 1919 and see how we became one of the largest state parks in the United States.
Go Fourth Program
The "Go Fourth" program, presented in partnership with the South Dakota Department of Health, distributes free entrance licenses for one day in any South Dakota state park or recreation area to every fourth grade student in South Dakota. The student must be present for the pass to be valid. More information
Pierre Trappers Baseball Sponsorship
Look for more to take place with this partnership next summer!