100 Years of Outdoor Tradition
All of last year and now for 2019, we have celebrated a century of outdoor traditions. In 1918, South Dakota established its' first pheasant hunting season which was held in Spink County in 1919. Also, in 1919, Custer State Park was named the first official state park.
In South Dakota, we know that traditions come in all forms of outdoor recreation. Right now, we are highlighting our hunting, camping and outdoor recreational traditions and plan to focus on where we all want to go in the next 100 years.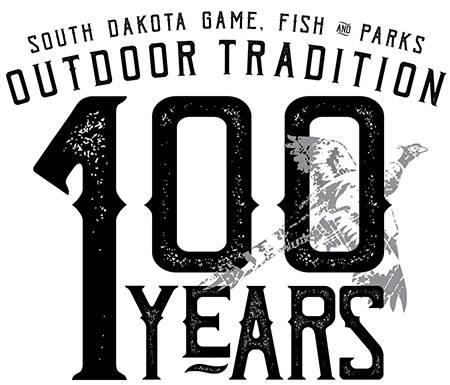 #MySDTradition
Look through the photo books to share memories and traditions on social media using #MySDTradition. As you look forward to the next 100 years of outdoor recreation, what will those new traditions look like? It is never too early to start them - and we want you to take us with you - using #MySDTradition.
Help us tip our blaze orange hats to the past 100 years and start celebrating the next century using #MySDTradition when sharing your experiences.
Weekly Feature a Park Giveaway
Throughout 2019 there will be a new state park or recreation area featured each week on our Facebook page. On Monday at noon CT the challenge for the week will be revealed. This could be to guess a park based on a picture provided, by a fact provided, two truths and a lie or some other competition. Participants have until 11am CT on Wednesday to make their guess in the comments of the initial post. The winner for the week will be revealed Wednesday.
Giveaway items will include t-shirts, playing cards, calendars, Conservation Digests, mugs and much more! Check in each week for your chance to win.
100 Year Scavenger Hunt
The 100 Years Scavenger Hunt challenges visitors to find the five 100 Year markers placed in each of the 30 participating parks. Take a selfie with each marker and submit the photos online to enter the drawing for that park's prize package, which ranges from kayaks to hiking packages to camping gear. Clues are posted online and on posters at the parks. The contest runs now through July, with winners announced in early August. Join the hunt.
South Dakota Public Broadcasting
We worked with a producer at South Dakota Public Broadcasting (SDPB) on a TV program about South Dakota state park history. The show is a part of SDPB's "Images of the Past" series. "A Century of South Dakota State Parks" premiered Thursday, Jan. 3 at 8:30pm CT/7:30 MT on SDPB1 and is available for viewing at https://watch.sdpb.org/video/a-century-of-south-dakota-state-parks-0gerow/.
Custer State Parks 100 Year Specials
Custer State Park will be creating a time capsule to replace the one they will be opening. The planting time on the capsule will be July 5 and they will challenge the next staff to open it again in 25 years.
Snapchat Filters will be created for special events such as Roundup, July 5th Celebration, Open House Weekend and other special events. This will allow users to show off where they are on Snapchat.
100 Faces of Custer State Park-Over 100 days Custer will showcase park staff both past and present highlighting the "faces'" that helped make CSP what it is today.
Centennial Face Cutout-Custer will have a cutout where visitors can take pictures.
Custer State Park Summer Concert Series
Every weekend in 2019 throughout June, July and August, Custer State Park will put on a free special concert and feature visiting artists and bands from around the region. Guests are welcome to bring their own picnics or refreshments. Times and dates for the series are yet to be determined.
Custer State Park Presents Nature
Custer State Park is hosting five showings of an outdoor "walking play" called Nature that will be performed near the State Game Lodge in Custer State Park over Labor Day Weekend from Thursday, August 29 through Sunday, September 1. Nature celebrates the dynamic connection between humanity and the natural world through conversations between Ralph Waldo Emerson and Henry David Thoreau. More information regarding the play, showtimes and how to get tickets can be found on the Black Hills Playhouse website.
Tatanka Photo Contest
Throughout 2019, Custer State Park and Custer State Park Resorts will challenge visitors to the Tatanka Photo Contest. To be a part of this effort, send in photos of the park! One photo will be chosen to be featured on the cover of the 2020 Tatanka Magazine. Second and third place winners will have their photo featured in the Visitor Center for the summer of 2020.
Photos can be submitted by email to kobee.stalder@state.sd.us or by Facebook message to Custer State Park.
Travel Back in Time and Download the Custer State Park App
The app features four different audio and video tours that allow you to discover how unique the park is at your own pace. Take the "Centennial Journey" and learn about the rich history of Custer State Park that dates back all the way to 1919 and see how we became one of the largest state parks in the United States.
Go Fourth Program
In celebration of 100 years of State Parks we are giving away a tent camping package to help start new traditions. Use your pass early and enter for a chance at four drawings throughout the camping season- in June, July, August and September. The package includes a tent, sleeping bags, cooler, camping chairs, and more! More information
Junior Naturalist Program
Participants in the 2019 Junior Naturalist Program will also get a limited-edition patch to commemorate 100 years of state parks.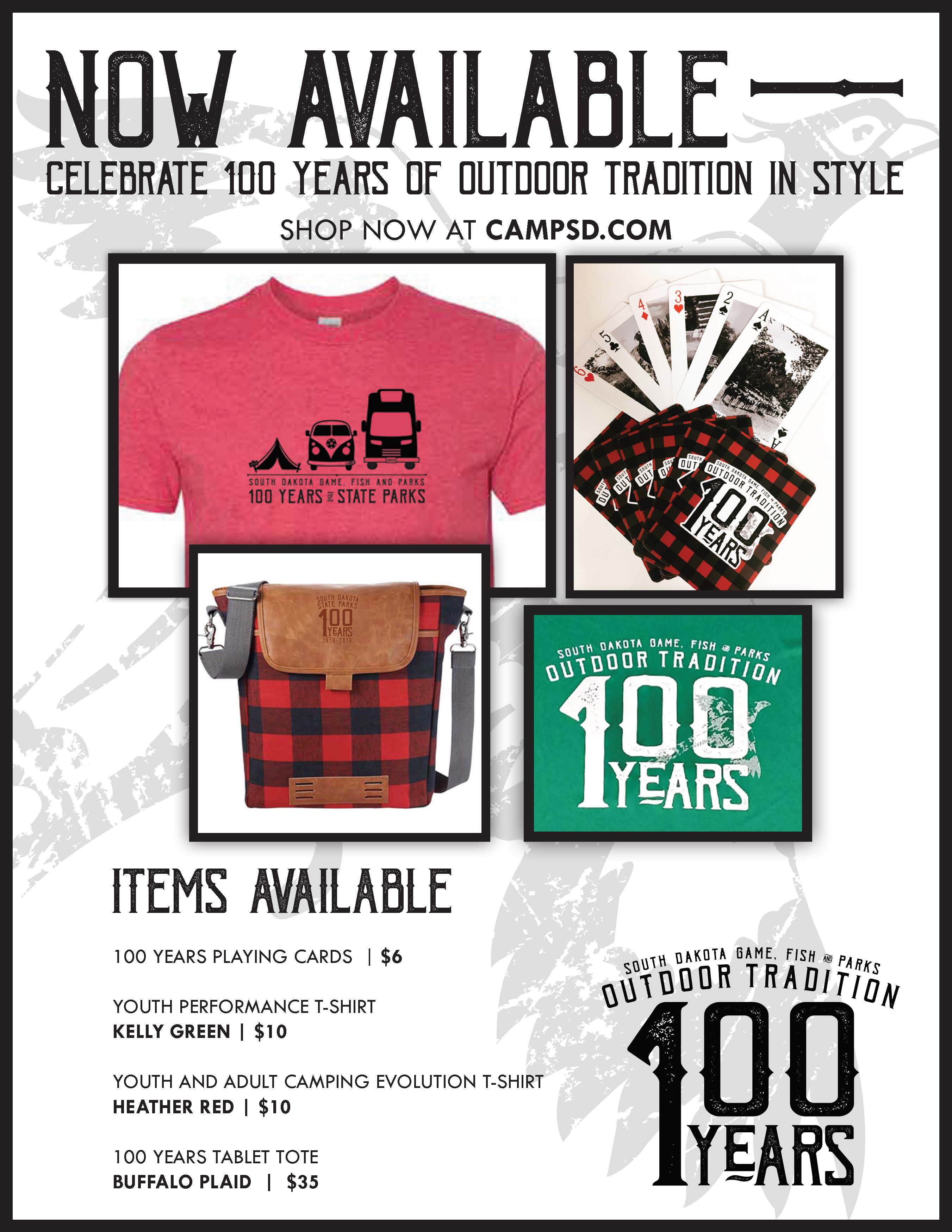 Merchandise
State parks are selling 100 year commemorative items; playing cards, stylish tote and shirts. To celebrate visit our online store at www.campsd.com. They will be shipped directly to you.
Park Programs
Join us for history-themed programs and birthday celebrations throughout the year!
Pierre Trappers Baseball Sponsorship
Look for more to take place with this partnership in summer!