Group Facilities/Event Rentals
Group Facilities/Event Rentals
Choose Fort Sisseton Historic State Park for your next gathering - let the restored buildings and spacious grounds of the late 19th-century frontier fort be the setting for your event. With rental facilities, overnight accommodations and a variety of outdoor recreation opportunities, it will be an event you'll never forget.
Facilities at the fort can accommodate everything from small meetings to large elegant weddings. Others have selected the fort to host their reunions, birthday parties, anniversaries, business retreats and other special gatherings.
Overnight accommodations, including campsites and cabins, are available on the fort grounds. Several resorts are also located in the area.
Group Activities
Fort Sisseton offers a wide array of historical and recreational fun. Activities are scheduled regularly and can be tailored specifically to your group's needs.
Fort tours
Visitor Center and historic buildings with interpretive exhibits
Gift shop
17-foot canoes with life jackets and paddles.
Snowshoeing (for both children and adults)
Outdoor recreational equipment: croquet, bocce, volleyball, badminton, and lawn toss
Hiking
South Barracks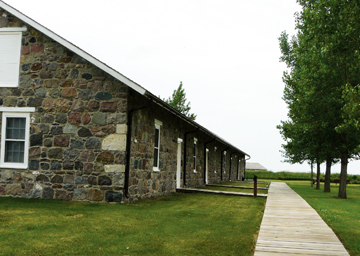 Built in 1864-65 by civilian artisans and soldiers, this beautiful split fieldstone and mortar building is ideal for weddings, receptions, reunions and meetings. Many amenities have been added, granting the use of modern conveniences without disrupting the historic atmosphere. Reservations are required.
Cost: $500 Friday, Saturday, Sunday (weekend rental)
Building dimensions: 182 x 41 feet
Floor Plan
Features:
Men's and women's restrooms
Handicapped accessibility
Padded blue chairs for seating up to 400
40 eight-foot tables (white/grey)
Garage door-sized opening
Smoke-free
Catering Kitchen with:

Kitchen sink
Refrigertor/Freezer
Four-burner electric stove with oven
Serving window
12 sets of 120 volt, 20 amp outlets on seperate circuits
Not included: cooking utensils, dishware, silverware, dish cloths or extension cords
Picnic Shelter with Kitchenette
The kitchenette shelter at Fort Sisseton is the perfect way to cater your own gathering.
Cost: $50
Features:
Kitchen sink
Refrigerator with freezer
Four burner electric stove with oven
Microwave oven
Serving window
Five sets of 120 volt, 20 amp outlets on two circuits
Water hydrant
Pedestal-style fire grill
Handicapped accessibility
Vault toilets near shelter
Rules and Regulations
Facility users are responsible for their own catering.
Vehicles entering parks designated as fee areas need to have a valid park entrance license. Discount special event park entrance licenses (in increments of 50) may be available for groups.
Facility users may bring their own decorations to enhance the setting.
Facility users responsible for basic cleaning after event.
Fees for group rentals are required to be paid in advance.