Bluegill Population Research in Northeast South Dakota
Background for research
Bluegills are an important sport fish in select northeast South Dakota lakes.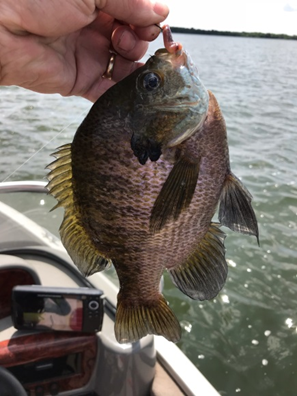 Information concerning bluegill population dynamics is lacking.
Periods of high harvest have raised concern from anglers primarily about the size of fish available for harvest. The impact angler harvest may be having on population dynamics is unknown.
Size structure in bluegill populations is largely influenced by males. Males may be parental males or cuckold males. Parental males typically grow large before maturing; whereas, cuckold males mature at a small size.
Cuckold males are either "sneakers" or "female mimics". Sneakers sneak into a nest and fertilize eggs while the parental male is spawning with a female. Female mimics approach the female from the opposite side as a parental male during spawning and fertilize eggs. Mimics are not chased from the nest because the parental male thinks it is another female.
Four factors have been identified that can result in unfavorable bluegill populations: 1) over harvest of large individuals, 2) density dependent growth (high competition for food results in slow growth), 3) social influence (removal of large males leads to earlier maturation of males thus less energy is used for growth, 4) excess production of cuckold males.
Study components
Bluegills > 6 inches will be tagged at each lake. Tags will consist of non-reward tags and $100 reward tags. The tags will allow for estimating population abundance and estimating the percentage of the population harvested each year (exploitation).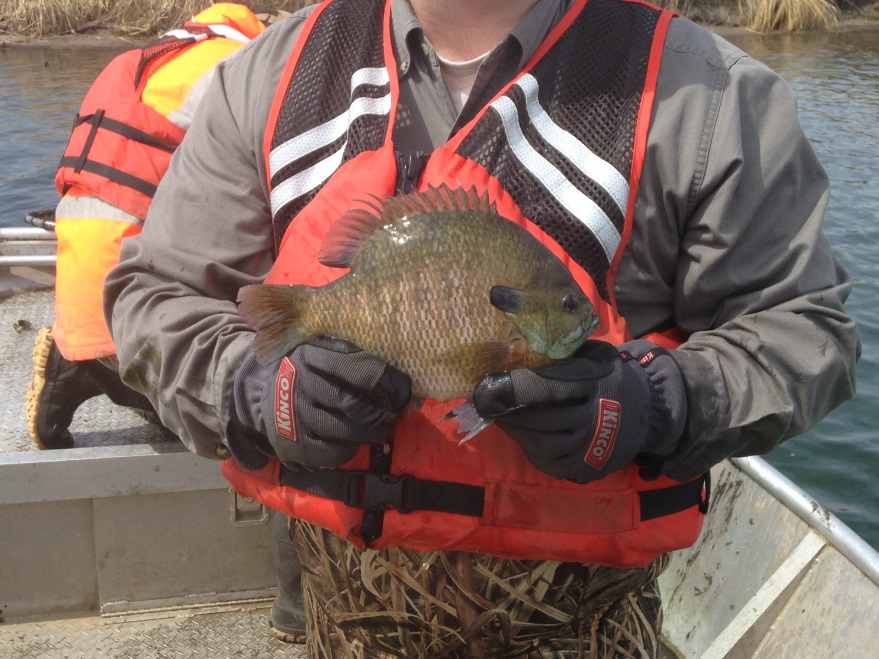 An angler use and harvest survey (creel) will occur at each lake. This survey will provide estimates on fishing pressure directed at bluegills, the number of bluegills caught and harvested each year, and the size of bluegills harvested.
A standard trap net survey will be completed at each lake and each year of the study. Data obtained in the standard survey will provide information concerning bluegill population size structure, condition, age and growth, mortality, and recruitment.
Information gained from all parts of the study will be used to model bluegill population dynamics and to estimate responses to a variety of potential harvest regulations.
Lakes and years
Enemy Swim 2019 – 2021
Clear (Marshall County) 2020 – 2022
South Buffalo 2022 – 2024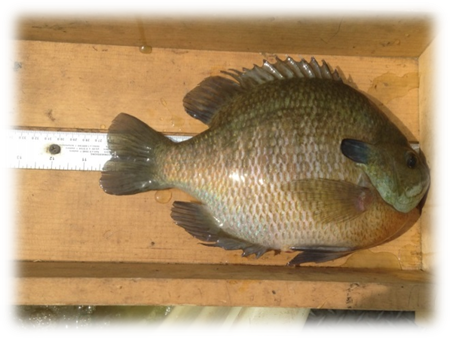 Reporting tagged bluegills
Anglers can report tagged fish online at http://tags.sd.gov or by calling (605)345-3381.
Physical proof is needed for a reward to be paid. A picture of the tag showing the reward tag number can be included with the online form at http://tags.sd.gov or the tag can be presented to South Dakota Department of Game, Fish and Parks (GFP) staff at the Webster GFP office (603 East 8th Ave, Webster, SD).
Anglers are encouraged to leave tags in bluegill that are released so that additional information can be gained from that fish. The tag number should still be reported for fish that are released.
Each reward tag will be paid only once during the study; reward payments will not be made on fish caught after December 31, 2025.
Updates
2019
Enemy Swim
Bluegill population estimated at 18,152 fish >6 inches
1,000 bluegills tagged (850 non-reward and 150 reward)
13% of 2019 reward-tagged fish were harvested May 2019-September 2020
7% of 2019 non-reward-tagged fish reported as harvested May 2019-September 2020
Creel survey estimated 2,112 (12% population estimate) bluegills harvested May-August 2019
August highest harvest
2020
Pickerel Lake replaced Clear Lake in the study because of current status of bluegill populations.
Summer creel survey not completed because of COVID concerns.
Enemy Swim
Bluegill population estimated at 21,989 fish >6 inches
999 bluegills tagged (849 non-reward and 150 reward)
27% of 2020 reward-tagged fish reported as harvested May-September 2020
13% of 2020 non-reward tagged fish reported as harvested May-September 2020
August highest harvest
Pickerel
Bluegill population estimated at 19,066 fish >6 inches
1.000 bluegills tagged (900 non-reward and 100 reward)
47% of 2020 reward-tagged fish reported as harvested during June-September 2020
16% of 2020 non-reward tagged fish reported as harvested during June-September 2020
August highest harvest