GFP Conservation Officer Honored
May 15, 2018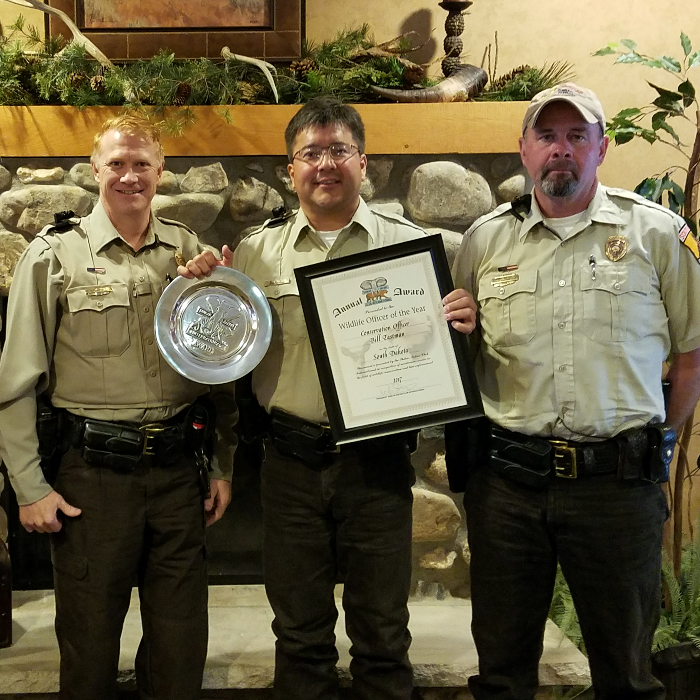 Pictured (L to R): Regional Conservation Officer Supervisor Jim McCormick, Eastman, and District Conservation Officer Supervisor Mike Apland.
PIERRE, S.D. – South Dakota Game, Fish and Parks (GFP) conservation officer Bill Eastman has been honored by Shikar-Safari Club International as the 2017 South Dakota Wildlife Officer of the Year.
Eastman, stationed in Belle Fourche, has been with GFP since 1998.
"Bill has certainly earned the respect of the public and his peers," said Mike Apland, who is Eastman's supervisor. "He is one of the best at fostering positive landowner relationships."
In receiving the award, Eastman was praised for his focus on improving habitat on public lands and his passion for recruiting and teaching youth and new hunters.
"Each year, Bill organizes a youth pheasant hunt, youth turkey hunt, two large Step Outside events, a kids' fishing event, and he is an instructor for 4-H shooting sports, Hunt Safe and Bowhunter Education," added Apland.
The Shikar-Safari Award is awarded annually in all 50 states and in 10 Canadian provinces by the worldwide conservation organization. It has been presented to a South Dakota officer each year since 1968. The award honors wildlife officers for their performances in wildlife protection, wildlife law enforcement and the implementation of wildlife conservation programs.
The award was presented to Eastman at the May GFP Commission meeting in Custer State Park.
-GFP-
View All News