Game, Fish and Parks Unveils New Website
January 9, 2018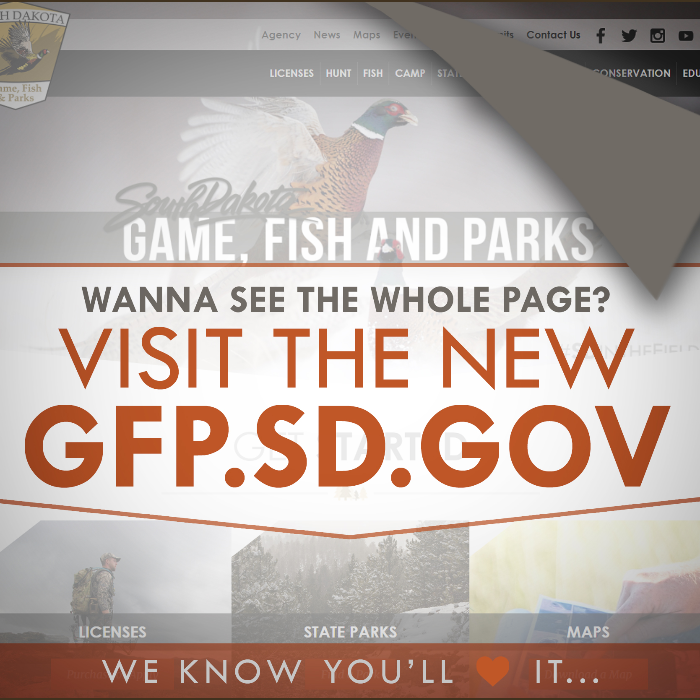 PIERRE, S.D. – The South Dakota Game, Fish and Parks (GFP) is inviting visitors to explore its new website at https://gfp.sd.gov/.
"The new website has been designed to provide the ultimate user-friendly experience with improved navigation and functionality throughout; connecting hunters, anglers, campers and other outdoor enthusiasts with their next outdoor experience and ensuring they have the most accurate digital content to do so," said Calley Worth, GFP digital content strategist. "The website was created with the user experience firmly in mind using the latest technology compatible with today's browsers and mobile devices."
Extensive research through customer surveys, online feedback, one-on-one focus group conversations as well as trends and analytics provided information on how to structurally design and format content.
Key features include:
Enhanced events calendar with state park events, season dates, application openings, fishing tournaments, open house meetings and more;
A complete list of forms and permits with more than half of the previous paper versions being replaced by online versions;
A central location for all maps;
Specific visitor feedback from each park; and
Frequently asked questions.
In addition, a new mobile app will also launch later this month that features a digital backpack so users can customize it with favorite maps, licenses and handbooks. The app will provide the ability to view maps offline if the user is in an area with little to no cell phone service. Residents and nonresidents will be able to sign up for notifications regarding hunting season start and end dates and application opening and closing dates. Users need to know that this new mobile app is designed for Android systems 6 and up and iOS systems 10 and up and that they may need to update their software if the app does not download to this new version.
Learn more about the new website and when the official mobile app will be unveiled by following us on Facebook or on Twitter at @SDGameFishParks.
-GFP-
GFP Mission: The South Dakota Game, Fish and Parks provides sustainable outdoor recreational opportunities through responsible management of our state's parks, fisheries and wildlife by fostering partnerships, cultivating stewardship and safely connecting people with the outdoors.
View All News